By Matt Diano: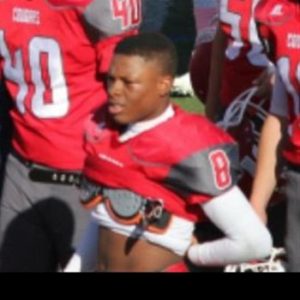 Christian Legagneur (Sr.); RB/CB – St. John the Baptist Cougars
In the CHSFL Double-A Quarterfinal preview, we said that when they get on a roll, the Cougar running attack was very capable of taking a game over….That is precisely what the story was last Sunday, as their trio of tailbacks combined to run for an astounding 604 yards and six touchdowns in a 45-31 road victory over St. Joe's by the Sea in the classic #4 vs. #5 seeded match-up….The two score margin of win over the weekend represents a four TD turnaround as it was the Ralph Carusillo coached Baptist squad that dropped a 36-20 game early in the 2016 regular season. 
While it was junior, Daniel Parker, who led all Cougars in total yards accumulated on the ground, rushing for 257 yards on 19 carries, the most important production of the game was complements of the 5'8, 170-pound resident of Bay Shore [Legagneur]….A selfless player who even when the ball was not in his hands, he demonstrated his commitment to the team by acting as a blocker, Legagneur finished the Lord's day having gained 182 yards o n only 10 carries, scoring three first half touchdowns, including back-to-back TD runs (40 and 20 yards respectively) in the opening 12 minutes that propelled the underdog Cougars to a quick 21-0 lead. 
Following a SJS KOR for a TD that could have easily swung momentum into the corner of the fourth-seeded Vikings, Legagneur posted his longest scoring dash of the evening, breaking to daylight from 62-yards away to once again give the West Islip based school a three-TD advantage
Legagneur did not even take a single handoff in the second half of the game; otherwise, as Carusillo said, "his already gaudy numbers would have been even higher." 
Like all of the great Baptist players that have walked the halls before him, Legagneur is far from a one dimensional student-athlete….Not only has he proven adept at scoring TDs of his own, he has also demonstrated a knack for helping the "D" from surrendering them…Regarded by his coaches as a shutdown defensive back, Legagneur's lived up to his reputation, successfully defensing three pass attempts while concurrently holding Joe's by the Sea's top receiving threat [Dom Anderson] to only three catches for minimal yards….He also logged three tackles. 
St. John the Baptist has now advanced to the AA semifinals for a third straight season, highlighted by a runner-up finish in 2014.  They last won a Catholic crown the previous year (2013), while playing in the A-Division.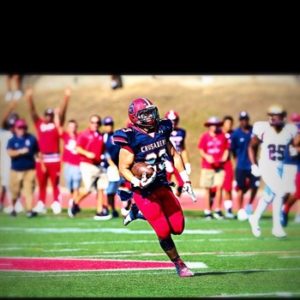 Antonio Giannico (Sr.); RB – Archbishop Stepinac
After battling an ankle injury for much of his swan song campaign, the Catholic Football enthusiasts are finally getting an opportunity to see what the 5'11, 205-pound team captain from Mahopac can do….Regarded as one of the best pound-for-pound players in the Lower Hudson region, Giannico is and has always has been a difference maker during his two-years as a starter on the Crusader varsity. 
A thorn in Chaminade's side in each of the past two weeks, Giannico burned the Flyers for 120 yards and a touchdown in the regular season finale…This past weekend, in the AAA quarterfinals, he elevated his game even further, posting the second highest single-game total of his scholastic career (had a 200 yard game in 2015), as he gained 167 yards and scored on two of his 20 touches to lead the two-time defending Triple-A titlists to a 44-21 victory….Sunday marked the first time in 2016 that Giannico posted a multiple TD game on the ground.  He now has six scores on the season and is driving towards a 1,000 yard season as a bullet point on his decorated high school resume.   His 287 yards the past two weekends puts him at 795 for the season, meaning he will need to average a just a little over 100ypg to reach the milestone if the Westchester based program is able to make a third straight appearance in the league finals. 
Already enjoying a 3-0 lead at the time, Giannico increased the Stepinac lead to 10-0 with a little over 3:00 remaining in the opening quarter when he broke for an 18-yard gain on 4th down…His second score of the half and the game came not too long after as he displayed his short yardage capabilities, punching the ball in from the 4 with 8:00 left in the first half to make the score 17-0.
Entering the semifinals on a hot streak, having run for consecutive 100-yard contests (as noted above), Giannico is probably not too sad to see the Farrell Lions as the opponents.  In two career games against the Staten Island rivals, he has averaged 151.5 yard/game and has scored four total touchdowns…When the two schools met on October 15th, Giannico ran for 103 yards and 1 TD in a 23-20 loss…If the trek for three in a row is to push on, Giannico will need to be even better November 12th. 
No matter what happens in the coming weeks, Giannico is all but guaranteed that he will continue in the recent tradition of being a Stepinac player who goes on to compete at the next level…While Stetson and Bryant are currently leading the race for his services, the two service academies (West Point and the U.S. Naval Academy) have also shown interest.   
Ki'shyne Shipmon (Jr.); WR/DB – Iona Prep Gaels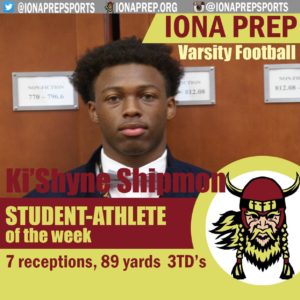 What Giannico is to Chaminade, the 11th grader from Yonkers has been to Fordham Prep….In both of the meetings between the Gaels and the Rams, Shipmon has been a man on a mission as a member of the IP receiving corps. 
Just three weeks removed from a five-catch, 134 yard, two touchdown performance in Iona Prep's 70-20 regular season victory over FP, the 5'10, 175-pounder was at it again last Saturday, posting a career high with three TD receptions (on seven total grabs amassing 107 yards) as the #3 seed from New Rochelle made a statement in the quarterfinal round, winning by shutout, 41-0….By virtue of his devilish trio of 6's that he put on the board, Shipmon increased his seasonal totals to 40 catches for 564 yards and eight TDs….He ranks in the top-2 in all three categories, trailing likely All-State teammate, Michael Degasparis (66 for 971) in receptions and yards, and Johnryan Freeman (9) in touchdowns snatches….All three are juniors, so the Iona Prep passing game should be just as devastating in 2017 as it has been this season. 
Doing his most damaging work in the first 15 minutes of regulation, Shipmon and senior QB, Michael Apostolopoulos were perfectly in synch at the onset of the game, as the former (who finished the day 17-for-21, with four TD passes) connected with the latter once in the first quarter (25-yard catch) and two more times in the first four minutes of quarter #2 (27-yarder followed by an 18-yard strike) to give the host Gaels a 27-0 advantage at the half.
Shipmon also deserves of a round of applause for his ironman play in the defensive backfield….In addition to a fumble recovery, he anchored a unit that held returning All-State field general, Matt Valecce, to one of the lowest yardage games of his career, as he tallied just 99 yards on his 13 completions….Last weekend's loss also marked the first time with Valecce under center that the usually high octane Rams failed to score a single point. 
With full focus now shifted to the semifinal round, it is worth noting that when IP met defending titlists, Xavier, Shipmon had his second highest reception total of 2016, making eight grabs for 64 yards.  
Jalen Johnson (Sr.); RB/FS – Xavier Knights
For almost the entire season, when compiling this list, a deliberate attempt has always been made to chronicle unique players….Therefore, the fact that the 5'9, 180-pound two-way player from Brooklyn is the first repeat selection of 2016 speaks volumes of the impact he must have made in order to put himself in a company all his o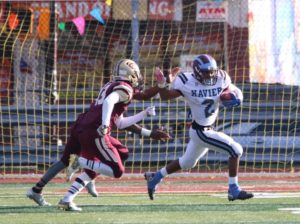 wn. 
Faced with the prospects of seeing his scholastic career ended last weekend when the defending champs faced off against archrival, #2 seed, Christ the King, in a loser goes home quarterfinal, Johnson was nothing short of miraculous in carrying (in all senses of the word) Chris Stevens' squad to one of the biggest upsets in CHSFL history (perhaps bigger than the recent presidential election outcome), as the Knights shocked the Royals 28-27 on the road to keep their quest for a repeat alive. 
Contained to the tune of a very modest and un-Johnson-like 12 yards on 11 carries when the two decorated Double-A programs squared off during the opening weekend of the 2016 season (won 24-12 by Christ the King), last Saturday was anything but humbling, as he exceeded the 100-yark mark for the fourth straight week, as he racked up 145 yards and two TDs on a workhorse-esque 29 carries. 
Recording both of his scores in the first half on runs from distances of nine and five yards respectively, Johnson was the main reason that the Knights trotted off into the locker room with a 20-0 edge after 24 minutes….This cushion would prove to be more valuable than anyone could have realized at the time as CTK fought back in the third quarter, scoring three unanswered TDs to lead 21-0 at the end of 3. 
Fully aware that the game might be slipping away and that his career was only 12 minutes from its demise, Johnson channeled his inner-Dylan Thomas, "refusing to go gentle into that good night" as he did something that he had not been asked to do all year long; he throw a pass !!!  And what a toss it turned out to be, as he hit fellow senior, Rory Kinsella, on a 46-yard strike for what proved to be the game-winner!!!
Johnson, who despite his offensive struggles during round #1, thrived on defense, notching a pick-6 for one of his two INTS on September 10th, was without question the defensive MVP in the rematch as well, as he once again emerged with a two pick day, including the victory-clincher with 90 seconds remaining in the 4th quarter….His first interception was important too as it set up Xavier's third TD of the 1st half….With four INTS in two games, when CTK junior QB, Demetrius Wilson, lays his head to sleep, Johnson is his personal sandman. 
To fully appreciate all that Johnson has meant to Xavier this season, consider that at present time, he is the team leader in the following categories—-rushing yards (711), running touchdowns (13), All Purpose production (1,055), tackles (50; had 12 tackles apiece in each game against CTK), and INTS (4; all against King). 
Having toppled one AA giant, the path to a second straight brass ring does not get any easier, as Xavier must now face Iona Prep, who defeated them 28-22 on October 22nd…On the bright side, Johnson had a great game in the losing effort, running for 145 yards and two scores…If he just matches this level of playmaking, there is every reason to think that the Cinderella story can be extended to a grand final chapter.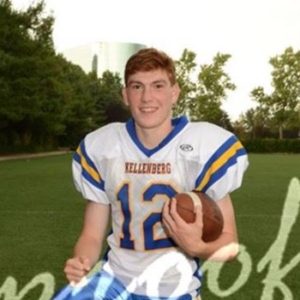 Marco Mongelli (Sr.); QB – Kellenberg Memorial Firebirds
The lone player selected in a week in which his team was defeated, our decision to include Mongelli had as much to do with his willingness to do whatever the team asked as much as it did on the stats he compiled in the Firebirds; 36-29 quarterfinal loss to AA top-seed, Holy Trinity. 
A wide receiver by trade, the Port Washington resident was the team leader in yards and touchdowns with 592 and seven respectively…He also ranked third and fifth among all AA players in these categories through the first 7 games…Therefore, when he was asked to go under center for the first time since 6th grade during the regular season finale (a 12-0 loss to Xavier), it could and should be said that he was sacrificing a lot in the name of putting team ahead of self.   However, this altruistic nature is one that comes without effort for the 5'11, 170-pound honor roll student and PREP Teacher (cut into his work time to teach Religion once a week instead of practicing).  Thus, when a call had to be made as to who would step in to fill the cleats of injured starter, Joe Grimm, Mongelli's name was always atop the list of options. 
Even though the "experiment" may go down as an "L", when this young man reflects upon his high school football career, we are hopeful that he remembers to place the character he demonstrated in front of any box score…In the days since that final whistle blew, the actual result of the game has faded in the minds and hearts of his coaches and the Firebird Faithful.  What has survived is the respect, love, and deep gratitude they collectively share for their student-athlete for his efforts.  His performance over the last two weeks with his and his fellow Seniors HS Football career on the line was nothing short of remarkable…Most 8th seeded 1-7, teams without their QB would have all but packed it in at the thought of playing a 7-1, #1 seeded opponent ….Mongelli embracing his new role and being a great leader sparked the entire teams performance.
Well aware of the predicament plaguing Kellenberg, Holy Trinity did what you would expect of any well-coached football program, they stacked the box….However, despite having to contend with unfavorable obstacles , Mongelli willed his way to a very fine game, rushing for 79 yards and two TDs on 11 touches….His only completion of the game, an 18-yard strike on 3rd down was also the key play in setting up the score that put the Berg up 29-22 in the 4th quarter…They previously enjoyed leads of 19-7 (1st quarter) and 22-14.
Leading 12-7 at the time, Mongelli's first touchdown rush closed out the opening quarter, as he dashed from 18-yards out to increase the advantage to 19-7…His second "6" broke a 22-22 4th quarter deadlock, as moments after that aforementioned 20-yard completion, he took off and sped 13 yards to the end zone. 
The 29 points scored by Kellenberg with Mongelli captaining the offense is the second highest total they posted in a game in 2016….So I guess the golden lesson is that gifts truly do come from the most unexpected of places.