Cardinal Hayes (8-4; Metro) vs. Canisius (9-2; Monsignor Martin)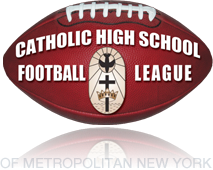 By Matt Diano:
When: Sunday December 4th, 2016
Where: Fordham University
Time: 1pm
Watch: News12Varsity.com
How they won their respective Regional Titles:
Canisius (31-20 over St. Francis)
-Combined to run for 357 yards and four TDs….Tailback, Raeqwon Greeer (Sr.), and quarterback Jayce Johnson (Jr.) tied for the team high with 143 yards each.  Greer scored two of the team's four rushing touchdowns
-Greer (2) and Stephen Dillon joined forces in the defensive secondary to come away with three interceptions….Ranked 6th this season in the state with 2,070 passing yards and a member of the top-15 all-time among Empire State signal callers, Hickson was limited to just 118 yards on 12-for-24, getting picked twice and failing to throw a TD pass for just the second time in his senior campaign.
-Led by senior outside linebacker, Jacob Lutz's five, Canisius racked up 13 tackles for a loss…Mason Hoose (2), Jeremy Cych (2), and Cole Burniston (2) also posted multiple TFL games.
-Hoose, who is fourth in NYS in total tackles with 134, topped the Blue & Gold with 15 stops; Lutz (12), Burniston (12), Cych (11), and Colby Moultrie (10) all reached double digits.
-Senior placekicker/Punter, Blake Haubeil, dominated in all areas of his craft, connecting on a 47-yard field goal on his lone attempt, going a perfect 4-for-4 on PATs, and controlled starting ball position by burying two of his four punts inside the 20-yard line, while also forcing five touchbacks on six kickoffs…Knowing how explosive the Hayes return game can be, Haubell's foot might be a difference-maker. …It is by no coincidence that he is committed to the Ohio State University.
Cardinal Hayes (41-39 over Archbishop Stepinac)
-Senior QB, Christian Anderson, was named the offensive MVP following a 14-for-27, 354 yard, four TD effort…Also ran for 51 yards
-Junior TB, Carlos Fernandez, led all Cardinals' rushers, racking up 65 yards and one score on 21 carries.
-Five different receivers had multiple catch evenings, led by Lucas Nunez, who gained 133 yards and scored a pair of 6's on his four grabs…Rutgers recruit, Shameen Jones, who played in his first game of the year after being shelved by an injury for the entire regular season, made three catches for 52 yards, including a 29-yard TD snag.
-Nunez also had an 81-yard punt return for a TD, giving him three in total on November 19th
-Hayes held the lethal 1-2 senior running back combo of Antonio Giannico (90) and Jonathan Gomez (24) to a modest total of 114 yards.  ..While Gomez would score three touchdowns on the ground, his yards per carry average of 4.0 was less than half his season average of 8.1/touch.
-Oscar Abreu had a key fumble recovery in the fourth quarter that ended a Stepinac drive that could have given the two-time defending champs their first lead of the night.
-Freshman DB, Sofian Massoud, knocked away the potential game-tying two-point conversion attempt to preserve the Hayes victory
Synopsis:
The classic tale of the high-powered offense versus the shutdown defense, the ultimate question on everyone's mind as we approach the final game of the 2016 season, is which team will be able to make the other play their style at their preferred tempo?
The Metro league champions, Cardinal Hayes, led by C.J. O'Neil, would love nothing more than to see the final score end up in the 40s or 50s…After all, when you are putting up 40+ points per game every time you step onto the field, you are going to win 99.9 percent of the time….Losers of their first three games of the 2016 season (not scoring more than 30 points in any of these defeats), following a close 18-15 win over Xavier, something just seemed to click into place for the boys from the Bronx, who went on to win four of their final five regular season games before peeling off three postseason wins (avenging two of their four losses)….Since the fifth week of the regular season, Hayes has proceeded to score no less than 33 points and have surpassed the 40-mark in five straight outings (including recent 43-24 win on Thanksgiving over Mt. St. Michael Academy).
Taking nothing away from the Hayes defensive unit, who most certainly has the speed, size, and skill to take over a game, the validity of the matter is that the key to Hayes' victory is going to be how productive they are in getting all of their freak athletes involved with the ball in their possession….Already blessed with a roster than read up and down like a future NCAA DI Track roster, the last thing that Cardinal foes needed to see was the return of Shameen Jones….Arguably considered the best receiver in the Catholic League entering the 2016 season, when Jones went down, it took a few weeks for Hayes to find their new go-to guy…However, the emergence of Lucas Nunez ( has made all the difference in the world as he will conclude his junior season as the #1 TD pass catcher in the Empire with 20 of his 52 total catches being accompanied by a "six" being put up on the scoreboard…Now armed with a 1 and a 1A option, senior quarterback, Christian Anderson, should have absolutely no problem padding his state-highs in both yards (3,267) and touchdown passes (34)…Anderson, who we hope has silenced any doubters who did not feel he was the best dual-threat quarterback in the state, is also a threat to take off with the ball, as he is second only to Carlos Fernandez (603 yards and eight TDs on 137 carries) with 586 yards.  Anderson leads the squad with nine touchdown runs too.
Canisius, who make no mistakes about it, are capable of scoring (averaging over 36ppg), would rather for a low-scoring affair….Knowing that Hayes has transformed themselves into the masters of the down-to-the wire shootout, the Buffalo based school does not need to trade blows in order to claim their second State crown in three years (defeated Stepinac in the inaugural title game in 2014)….Anchored by the likes of Mason Hoose (134 tackles, 36 TFL, 7 sacks), Cole Burniston (71 stops, 21 TFL, 8 sacks), Stephen Dillon (82 tackles, 7.5 for a loss, and a trio of sacks), and Jeremy Cych (72 stops, 8 tackles for a loss) along the D-line and the backer corps, and complemented by Raeqwon Greer(leads the team with four INTS), Paul Woods (2 picks) and Colby Moultrie (2 interceptions) in the secondary, this cohort does not get scored upon often, as they are giving up just 12.8 points per game…
Offensively, sixth-year head coach, Rich Robbins, receives significant contributions from many of these same names and faces….Using a very balanced and depth-rich running attack as the foundation of their scheme, Greer leads the Crusaders in both yardage (662 on 102 carries) and touchdowns (11)…Burniston, while getting less touches, is the owner of a higher average than his fellow senior, chewing up 7.1 yards every time he touches the ball to enter the state title contest with 466 yards and five TDs of his own….Hoose, who at 230 pounds is a beast of a young gentleman, has best been utilized in short-distance/goal line type situations, scoring seven touchdowns on 36 carries….While his numbers are slightly slanted because of the emphasis on the run, Woods is a dynamic playmaker from the wide-out position, leading the team in every receiving category with 26 catches for 505 yards and a cinco in the TD category.
Not to be outdone is a trio of other major contributors who have gone uncited up to this point….While his stats may not match up to those of his counterpart [Anderson], Jayce Johnson is as good as anyone when it comes to commanding his troops at the field general position…A capable passer who is completing over 50 percent of his attempts (63-of-120 for 894 yards and 8 touchdowns), the 6'5, 200-pounder is at his best when he is bulldozing would-be defenders to the tune of 599 yards and five TDs on 76 carries (7.9 average)….Kenyatta Huston might be Canisius's answer to Nunez in terms of overall athleticism and "take it to the house" explosiveness…Starring as both the #2 running option (661 yards,  and nine TDs while averaging 13.8 per carry) and a lethal kick returner (33 yard average per KOR), the 5'9, 165-pounder is not big in stature, but is a giant in terms of importance….And finally, it is not every day that a special teamer falls into the category of "must include."  Then again, Blake Haubell is not your everyday kicker/punter, an opinion that is shared by his future college head coach, Urban Meyer….Contending with the nasty upstate wind, the future Buckeye still managed to nail 6-of-9 field goal attempts, including his season long in the Monsignor Martin title game and was a perfect 50-for-50 on extra point kicks….Stepping onto the gridiron with a Howitzer for a leg, Haubell's impact is not just limited to the points for which he accounts.  Rather, because he is able to drive the ball so deep off the tee or from punt formation that often times, he forces the opponent to start their possessions in poor field position.   Considering how efficient the Crusader defense is at stymieing anything thrown at them, the mere notion of having to go the entire length of the field against them can shatter an opponent's confidence and will.
So, our prediction is this—-If the over/under exceeds 60, Hayes takes the crown and gives downstate the 2-1 edge in terms of total state title wins….50 or below and it will be the Crusaders celebrating on the road yet again (their 2014 victory was on Long Island).