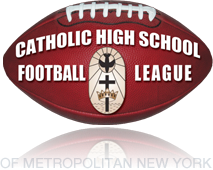 Frankie Roder (Jr.); RB/LB – Kellenberg Memorial Firebirds
For many an athlete at any level of competition, you can wait your entire career and never have the kind of show-stopping, page-turning, game-changing type of performance that Firebird junior, Frankie Roder, posted last Saturday afternoon in KMHS's season-opening 47-26 road victory over Mount St. Michael Academy…And, it all happened in his VARSITY DEBUT!!! 
If what happened on September 9th becomes the norm for the 5'11, 170-pounder from Franklin Square, then we just saw the birth of a future legend in the Blue & Gold.
Carrying the pigskin just eight times on the afternoon, Roder would certainly maximize the quality of all of his touches, as he found the end zone 50 percent of the time, scoring his four touchdowns from distances o 2, 14, 14, and 18 yards away…The timing of his success could not have been more perfect as his initial score came with the visiting Marianist school trailing 8-0 and it ignited a 19-0 first half rally from which the Firebirds never looked back….Scoring twice in each of the two halves, when Roder exploded, it seemed to come in pairs, as he scored back-to-back TDs to account for 12 of Kellenberg's 26 points during the first 24 minutes of play, and then really salted away the "w' for the team by again logging consecutive TDs to expand a 26-21 lead into a 40-21 advantage.
Overshadowed by the monster game he had on the offensive side of the ball was the fact that Roder would prove to be quite an essential ingredient on defense as well, making two of his five overall tackles for a loss and doing his part to slow down a very athletic and quick-hitting Mountaineer triple-option attack.   After surrendering 20 first half points, Kellenberg adjusted and allowed just six points during the final two quarters.   
Mike Nicosia (Sr.); QB – Archbishop Stepinac Crusaders
Fresh off of one of, if not the best single season ever (set several school records with 2,314 yards and 25 TD throws) posted by a Crusader signal caller, Nicosia picked up right where he left off, completing 70 percent of his attempts (14-for-20) for 187 yards and four touchdowns in Stepinac's 55-26 victory over St. Peter's.  
Reminiscent of the 2016 AAA finals loss to Cardinal Hayes, Nicosia wasted little time in confirming that he and junior wide-out, Shawn Harris Jr. are well on their way to being one of the most prolific pass-catch tandems in all of New York State…10 months removed from playing pitch and catch to the tune of six receptions for 109 yards and a TD, Nicosia found Harris on a 39-yard strike to give Stepinac the early 7-0 lead.  This "on the money" exchange would be the first of two that occurred during the first half, as Nicosia's third TD pass of the day would come via a 33-yard screen to Harris late in the 2nd quarter to make the score 26-14.
Nicosia's keen field vision was exceptional all game, as in addition to his three connections for 74 yards to Harris, he did an excellent job of sharing the wealth, completing 11 of his 14 passes to four additional receivers, including TD throws to Jalen Barger and Sergio Pinto (both also occurring in the first half) to go into break leading 35-14. 
While his stat line on the day was astonishing, it must be noted that Nicosia likely would have put up even gaudier numbers had he not sat out the entire 4th quarter with his team well in control of the contest.
With a potential preview of the AAA finals going down during week #2 when St. Anthony's travels to Stepinac, Nicosia is going to need to be every bit as locked in underneath the Friday night lights on the 15th.
Vin Wagner (Jr.); RB – Monsignor Farrell Lions
Roder is not the only 11th grader that will never forget the opening weekend of the 2017 season.  Joining him will be Wagner, who did not so much as make a statement as he did give a declaration to all future foes in leading the Staten Island based Lions to a 20-7 victory last Friday night over defending Rhode Island State Champs, La Salle (entered the season ranked #2 in the state.  
Making his varsity debut in the backfield after securing the starting spot late in training camp, the 6'1, 205-pounder was a beast that could not be tamed, carrying the load both literally and figuratively for large chunks of the non-league showdown….In fact, it did not take very long at all for Wagner to set the tone for the kind of day it would be, as per his coach, "he carried the ball 90 percent of the time on an eight minute, touchdown yielding opening drive."
While it could be said that pretty much every time he touched the ball he made something happen, if you had to pick a single moment to pinpoint as his coming out party, that specific highlight came in the form of a third-quarter, 50-yard touchdown run that turned a then 13-7 lead into a two score game.    
On the night, Wagner carried the ball 27 times for 283 yards (10.5/touch), including doing the bulk of the work in the fourth quarter to kill the clock.
In recognition of his unbelievable rookie debut, the NYCHSFL was not the lone organization to honor Wagner.   Complementing his Player of the Week distinction from us, he also earned identical accolades from the Staten Island Advance, as well as SILive.com.
Sean Bryan (Sr.); RB – St. Anthony's Friars
As a junior, Bryan ran for 467 yards in total; last Saturday, he rushed for more than half of that in a single afternoon, racking up 254 yards and a touchdown in propelling the visiting Friars to a big 35-21, opening season victory over NJ's Delbarton.  
A lightning bolt in pads, Bryan is so out-of-this world fast that anytime the Green Wave left an inch available to him, he exploited it and exploded for a massive gain….Never was this more true than when after seeing a 14-0 lead at the half get squandered, the 5'8, 180-pound senior took it upon himself to make sure there would be no second comeback effort by their opponents, as he followed up a Delbarton turnover on downs by breaking away on an 81-yard dash with 5:36 remaining in regulation to make the score 35-14 and give his school a nice cushion. 
While it goes without saying that the aforementioned TD blast is probably what hogged much of the headlines the next morning, it was Bryan's clutch effort all day that should be celebrated.   He as an individual may have only accounted for six of his team's points.  However, it was his ability to consistently move the chains that served as a catalyst and preserver of many a Friar drive….For instance, even though it was teammates, Greg Campisi and Julian Chung hooking up on a 9-yard TD pass for the first score of the contest, that touchdown would not have been possible if Bryan had not put them on the doorstep with a 65-yard scamper on the second play from scrimmage. 
Perhaps premature and gutsy to put it in official writing, but it is our contention that with the way he can so effortlessly cruise untouched down the field, coupled with a very solid offensive line doing the paving for him, week #1 will be just the first of multiple 200+ yard games for the Gold & Black dynamo.
Malkelm Morrison (Sr.); DB/KR – Iona Prep Gaels
Completing the 2-0 sweep for the Catholic League over reigning Rhode Island State champions was Iona Prep, who dominated the second half to emerge with a 40-22 triumph over the seven-time defending titlists, Bishop Hendricken…The win at home by the Gaels snapped BH's 27-game winning streak.
Not necessarily the prettiest or cleanest performance by the New Rochelle based program, what separated the defending CHSFL AA Champions (newly restored to AAA status) from their opponents from the Ocean State was an ability to make things happen on special teams….And in this aspect of the game, no one excelled more than the senior defensive back, Morrison.
With his team already leading 7-3, the 5'11, 180-pounder who technically calls New England (Stamford, CT) home, would respond to a Hendricken field goal by receiving the ensuing kickoff and taking it 85-yards undeterred to the house to give host IP an early 14-3 edge….Albeit none of the others landed in the end zone, the TD was just one of many great returns for Morrison, who finished Saturday afternoon with 150 yards gained in this capacity.
Demonstrating that not only is he quite proficient in putting points on the board as a special teamer, but is equally skilled in erasing them, Morrison would put the finishing touches on a great goal line stand in the third quarter, blocking BH's field goal attempt to maintain momentum and keep IP in the lead,  27-22.
And while his two most pronounced moments may have both fallen under the umbrella of special teams, Morrison would have a rather solid day from the defensive secondary too.    Playing as part of an ensemble that held their highly renowned opponents to a goose-egg in the second half, the Iona Prep 12th grader contributed six total tackles (3 solo, 3 assists) and made two pass break-ups to round out his overall strong body of work during the first weekend of the season.
Will Loffredo (Sr.); WR – Fordham Prep Rams
The back-end of one of the top-15 most productive quarterback/Wide Receiver duos in NYS history, Loffredo's 73 grabs in 2016 is a career-defining year for most; but, based on what he did in the first game of his senior season last week, 73 is looking more and more like the tip of the iceberg in terms of his capabilities….Partnering with fellow 12th grader/2x All-State QB, Matt Valecce (also nominated for POTW honors), the 6'4, 215-pound wide-out torched St. Joe's by the Sea with a 16-catch, 171-yard, two touchdown performance en route to leading the Rams to the 28-12 victory….These 16 catches are tied for the 5th most ever posted in a single game in the chronicles of Empire State football.
Responsible for 61.5 percent of Valecce's 26 total completions and 58 percent of his 298 throwing yards, as mind-boggling as the quantity was, it was the quality and importance of some of his grabs late in the AA contest that solidified his position on this list…..
With his team clinging to a 14-6 advantage at the end of three quarters, Loffredo notched both of his TD snatches in the final 10 minutes of the game to turn what had previously been a nail biter into a rather comfortable win for the visiting Rams….On the first of these scores, he cemented his reputation as the ideal, "never quit on a play" type of kid that coaches adore when he lost his footing in the end, but quickly recovered and worked his way back to his feet to reel in a 19-yard dart to make the score 21-6…He then safeguarded the Fordham Prep road conquest when he answered a Vikings TD (to cut the deficit to 21-12) with a 38-yard touchdown reception in the last 4:00 for the final points of the night.
He may don #3 on the roster, but with performances like the one last Friday, Loffredo seems destined to be #1 in a lot of future record books.
Marc-Anthony Dalce (Sr.); LB/FB/P – St. Francis Prep Terriers
There will be no winless season in 2017 for the St. Francis Prep Terriers, as they made a statement in their week #1 contest, shutting down the returning double-A runners-up, Holy Trinity, to win 15-7 on Sunday afternoon.
Emphasizing in the AA preview that the strength of SFP this year would be their core group of potential defensive standouts, the team in general, and Dalce especially, made us look wise when they limited the usually potent Titan running attack to just 13 yards rushing on 27 attempts….The unit's pass "D" was exceptional as well, forcing HT's quarterback into a 5-for-13 afternoon that produced just 67 yards in the air.
Dalce is well on his way to a second All-Catholic distinction following his amazing individual feats on the Lord's day…Leading the team in tackles with 11, the 5'11, 205-pounder "do it all" student-athlete also tacked on 1.5 sacks, ran more than five yards per carry (27 yards on five touches), and was a master of controlling field position.  Serving as the team's punter, he averaged 43.5 yards on his four kicks and twice buried Holy Trinity inside their own 20-yard line.
Having passed one test with flying colors, the cohort from Fresh Meadows will need to be at the top of their proverbial games again in week #2 when they go toe-to-toe with last year's Single-A champs, Moore Catholic…If Dalce or one of his teammates is able to do to returning All-League running back, Justin Lacks, what they just did a week ago to HT, it quite surely will be two straight weeks with a POTW nomination after going all of 2016 without the opportunity to spotlight one of their student-athletes.