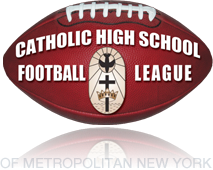 Elijah Jones (Sr.); WR/CB – Cardinal Hayes Cardinals
After being dormant during the opening weekend of the 2017 season, the Cardinals' AAA title defense got off on the perfect note last Saturday afternoon, as the boys from the Bronx made a very emphatic statement in posting a 35-22 victory over Iona Prep in a clash of 2016 titlists…Considered on paper to be a toss-up, if you are looking for a reason as to why the margin was as great as it was, you need investigate no further than look at the human highlight reel assembled by the senior WR/CB, Jones.
Out-scoring the opposing Gaels single-handedly, there simply was nothing that the Boston College bound stud could not/did not do in leading his school to a very pivotal early season triumph over their fellow title contenders from New Rochelle.
Accounting for the first four of Hayes's five touchdowns on the day, the 6'3 two-way standout was easily the best player on both sides of the ball.  This is no easy feat when you consider the quality and quantity of play-makers that existed on each sideline.
Recruited by the Golden Eagles mostly as a defensive back, it was the receiving abilities of Jones that got the Cardinals off to a hot start when he caught the first of his three TD receptions to give the host school the initial 7-0 lead….In the second half, with the outcome still very much in doubt, he would elevate his performance even further, catching a pair of touchdown passes from first-year starter, Sofian Massoud…With the score sitting at 13-9, Jones found himself on the backend of a 26-yard strike to make the score 19-9…Following an Iona Prep kick return for a TD to cut the edge to 19-15, it was #1 again who shifted momentum back in the favor of the Cardinals, taking a screen pass 65 yards to the house expand the lead…..Overall, on the offensive side of the ball, Jones concluded the game having caught six of Massoud's 10 completions for 211 receiving yards and the trio of touchdowns.
Jones's work on offensive alone would have made him a sure-fire POTW selection…Remarkably through, he was darn-near just as impactful from the defensive secondary, making six tackles and successfully defending five passes.   His biggest contribution on "D" though came in the second quarter with the game deadlocked at 7-7, when he intercepted a pass and charged 78 yards down field for the pick-6….With Jones and company creating a quasi no fly zone in defensive backfield, highly touted IP quarterback, Derek Robertson, was held to sub. 50% completion percentage, ending the game 19-for-39 and tossing a pair of INTs.
Justin Felder (Sr.); RB – Holy Cross Knights
An individual who obviously has a flair for the dramatic, the 5'8, 170-pound senior captain, Felder, proved that when the game is on the line, he is without question, the man to whom you want to feed the ball….With their back-and-forth affair against Mount St. Michael Academy all knotted at 20 all in the final 1:00 of regulation, the Knights wisely put the game in the hands of Felder and were rewarded for their decision when he found the end zone in the final 27 ticks to propel Holy Cross to the 27-20 victory.   The win last Saturday improved the Flushing based program to 2-0 this season.
No doubt outstanding and clutch down the stretch, Felder's efforts extend well beyond just the game-winning score.  While his late-game heroics may have been the most compelling closing argument for his inclusion to this list, the truth is that as a whole, he put forth quite an overwhelming case during the first 47 minutes of play as well….Finishing with a total of 200 all-purpose yards, on the whole, Felder averaged exactly eight yards per carry, gaining 144 on 18 touches.   Having scored earlier in the contest, he notched two touchdowns to comprise approximately 44 percent of his team's point total.
Holy Cross will be relying on and expecting another huge performance from their senior running back during week #3 when they square off against Fordham Prep in a battle of unbeatens….Given how potent the Ram passing game can be, one would expect heavy doses of Felder runs in order to control clock and keep the ball out of the hands of Fordham Prep.
Chris Viglilante (Sr.); QB – St. Joe's by the Sea Vikings
For the second time in as many weeks this season, the NYCHSFL and SILive.com are in agreement as to whom the best of the week was coming out of the borough of Staten Island….Sharing dual honors between the two organizations this week is none other than the Vikings first-year starter, Vigilante.
Making just the second start of his varsity career, the senior field general displayed tremendous resiliency, shaking off a disappointing 15-for-37 debut in a week 1 loss to Fordham Prep, by rebounding with a 15-for-22, 208 yard, three touchdown afternoon in a 25-14 win against an always gritty and prepared Xavier.
Despite acting in the role of back-up QB last season, when 2017 rolled around, Vigilante was voted a team captain by his peers.    This honor had to have been in recognition of all the hard work that the 5'11 signal caller put in during the off-season….That effort and rapport building was clearly evident during the second week of the season, as he was a human sprinkler from behind center, spreading the ball around all day and making everyone around him better the way a true captain and general is asked to do.   All three of his TD passes would go to different targets as he hooked up for scores with fellow seniors, Matthew Mitchell and Christopher Simermeyer (led all Vikings receivers with 6 catches for 87 yards), as well as 11th grader,  Francesco Arlia….Between him and his back-up [Christopher Beck], 11 different players caught one or more balls.   That's what we call consummate teamwork!!!
Through two games, Vigilante is very much doing his part in filling the shoes of his predecessor, Francis Perry, completing 54 percent of his tosses (32-for-59, for 332 yards and five touchdowns (versus only one interception).
If last weekend was any indication of the level of progress he is going to make with each subsequent start, then the rest of the league should consider themselves forewarned; Vigilante is a gunslinger and if you let him, he will blow you away with each and every drop back.
Roberto Auguste (Jr.); RB/DB – Xaverian Clippers
On a night where the Clippers officially christened their new home (Aviator Sports Complex) turf, it was only fitting that the man who is going to set the standard for future generations playing on it, to have a banner night in leading Xaverian to a 48-0 victory over Kennedy Catholic in a war of perennial league semifinalists.
Called the most naturally talented and dangerous player in the "A' division in our 2017 preview, the 5'11, 180-pound junior from Brooklyn exceeded the praise bestowed upon him, running for a team-high 127 yards on just 11 carries (over 11.5 yards per touch) and scoring two of his team's five rushing touchdowns along the way….He also caught a 7-yard pass, added a successful two-point conversion, and accumulated 50 yards as a kick/punt returner to conclude the night with all-purpose yardage of 184.
Auguste has now surpassed 100+ yards rushing in both games played thus far in 2017…. Competing in a non-league contest against Hackley during the opening week of the season, he ran for 105 yards and scored a TD in a hard fought 20-14 loss.
Like his fellow week #2 honoree, Jones, Auguste would also made his presence known and felt on the defensive side of the ball, recording four solo tackles and assisting on an additional three others to end the night with seven total stops….If that was not sufficient, let it be noted that he also notched the only interception of the evening in helping to keep Kennedy Catholic off the scoreboard for the first time since the 2015 season.
Will Ford (So.); WR – St. Dominics Bayhawks
Donning the Bayhawk varsity jersey for just the second time in his promising scholastic career, Ford has already cemented his status as a player to keep an eye on during the course of the next 2.5 seasons in Oyster Bay.
Making his home field debut one to remember, the 10th grader from Amityville, was a "horror" for the Nazareth Regional defense, making three catches for 71 yards, including a 38-yard strike for the final TD of the game for St. Dom's in their 23-0 conquest…Catching 60 percent of Jack Rooney's five completions for over 80 percent of the yardage (71 of 87), Head Coach, Robert Ploth, was right on the money when he described his sophomore sensation as "simply uncoverable" under the Friday night lights of  CIBF Field….It may not count in the official stats, but Ford caught a fourth ball as part of a successful two-point conversion.
Complementing his strong effort as a pass catcher was Ford's unselfishness as a run blocker.  Multiple times, he sacrificed his 5'8, 145-pound frame in order to spring one of his teammates for a big run.  On one such occasion, it was Ford's block that paved the way for a first quarter rushing touchdown.
Needing only two games to carve his niche as the team's top receiving option, it should come as no surprise that he currently sits atop all major categories with four catches for 75 yards and the only TD grab of the season thus far…With a date on the road against Xaverian slated for next week, Ford is going to need to continue to blow past receivers if the Bayhawks hope to improve to 2-1 in league contests.
Kevin Gray (Jr.); LB – Archbishop Stepinac Crusaders
It's rare that in a game where the winning team scored 38 points, that the most outstanding player was without hesitation a member of the defensive unit….Such an abnormality occurred last Friday in Stepinac's 38-19 victory over visiting St. Anthony's in what many felt could be a preview of the 2017 AAA finals match-up.
All week (myself as guilty as anyone) the talk heading into the game was about the vaunted Friar offensive line and how behind their protection, St. Anthony's was able to pile up nearly 400 yards on the ground (including 250+ by reigning Catholic Player of the Week selection, Sean Bryan) and four touchdowns in a week #1 victory over Delbarton….Gushing over this collective domination in the trenches there was an aura that formed suggesting that STA would be able to run over any opponent they played this season….Thankfully, the Stepinac defense as a whole and junior linebacker, Gray, specifically, did not bother to read the press clippings.   Instead, they took the field trusting in their abilities and served all doubters a big bowl of crow by the time the clock hit zero in White Plains.
Led by Gray's 19 tackles (9 solo), the Crusader defense was locked in all night, limiting St. Anthony's a mind-blowing low of only 82 yards on 34 carries (2.4 average)…Bryan, who gained 79 yards on four touches when these two teams squared off last season, was held to a mere 39 yards on 14 handoffs last Friday….Dual-threat quarterback, Greg Campisi, who had never lost a varsity start in his still young career, went from gaining 121 yards in the first week of the season to mustering just 26 on twice the carries seven days later….The 19 point total was the lowest recorded by the Friars in a AAA league game since a 28-10 semifinal loss in the 2014 playoffs.
Averaging 13 tackles/game for the now 2-0 Crusaders, the multi-sport playing, honor role student-athlete currently ranks 6th in NYS in the category.  Despite playing one fewer game than everyone else in the polls, Gray still ranks in the top 60 for overall stops.
Fresh off of beating one of the perennial dynasties in their own state, Stepinac will continue to challenge themselves in week 3 when they travel to Westwood, Massachusetts to take on powerhouse Xaverian Brothers on Saturday the 23rd….If Gray and the "D" show up again like they did last week, expect for AS to slay another giant..