By Matt Diano: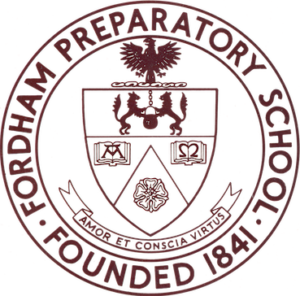 Liam McHale (Sr.); WR – Fordham Prep Rams
Playing on a Ram offense that features two returning All-State players, it is often easy to get overlooked.   This is precisely what has happened in the case of the 6'6 Fordham Prep receiver, McHale…Without question, the #1 target on just about every other NYCHSFL team, while he may not get the respect he deserves in the publications, the Buchanan resident is having a monster senior campaign and may be very well be on his own All-State path following yet another steady and outstanding effort in his team's 42-30 victory over Moore Catholic.
The team leader last weekend with his seven grabs, McHale's combination of size and athleticism continues to make him a match-up nightmare for most secondaries….Countless times on third down, his number would be called and he'd respond with a leaping catch over the middle to preserve the respective drive.   Twice (both in the second quarter), he not only was the one to extend the drive, he also was the man to put the exclamation mark on it, as he accounted for back-to-back FP TD snatches to turn what was once a 14 all tie into two score lead for the host school…Making a diving catch on a 16-yard missile from his QB, Matt Valecce, for the first of his two touchdowns, for most, it would be hard to top that play, but McHale would manage to upstage even himself when he took a modest screen pass and proceeded to bring it all the way to the promised land for a 43-yard TD.   The 59 total yards accumulated between these two scoring catches represented only a shade more than half of his output for the day, as he finished the game with 107 total yards receiving.
Per the Fordham Prep coaching staff, even on the balls that he did not directly catch, the mere presence of McHale was a difference maker as it forced the Maverick defensive backs to adjust their game plan, thus opening up new lanes and laying the foundation for Valecce to throw for 377yards and six touchdowns.   The massive yardage total moved Valecce into third place All-time in the NYS record book.
Trailing only his aforementioned returning All-State teammate, Will Loffredo, for total catches and receiving yards, McHale will head into a week #7 showdown against the 2016 AA runners-up, Holy Trinity, with a stat line that reads as follows: 36 catches for 520 yards.  His five TD snatches (four of which have come during the past three weeks) puts him #3 among Rams, with Loffredo and Thomas Walsh, sharing the top spot with eight each.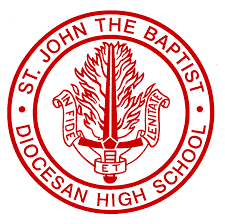 Michael Palermo II (Sr.); RB/LB – St. John the Baptist Cougars
Legend has it that the hardest feat in sports is hitting a baseball traveling 100 MPH.   We at the NYCHSFL subscribe to a different philosophy. To us, because we are allways attempting to share the spotlight among as many deserving student-athletes as possible, it is much more difficult to get named a Player of the Week honoree twice in the same season…Thus, if becoming a multiple recipient is difficult, what Palermo has just pulled off is bordering on historic and unprecedented, as he has successfully received the POTW tag for a second consecutive week following a 20-7 victory over Holy Trinity that put the Cougars right back in hunt for a solid postseason seed.
A week removed from being an absolute terror on the defensive side of the line of scrimmage (16 tackles, 3 TFL, 2 Sacks, 1 INT) in John the Baptist's first win of the season over St. Joe's by the Sea, the heart and soul of Ralph Carusillo's program found a way to be even more outstanding during week #6….His total tackle quantity dropped slightly to 14, but otherwise, he was a one-man, stat compiling wrecking crew in leading his school to a must-have "w" on the road….Palermo's body of work would come in a much balanced manner as he notched seven solo tackles and assisted on seven additional stops…From these 14 tackles, the majority resulted in a loss of field position for the Titans as the Smithtown resident was credited with seven TFL, and added four sacks of the quarterback…When the dust had finally settled, the SJB defense, anchored by Palermo's individual accolades, had not only limited the Trinity offense, it overwhelmed it, forcing the host Titans to finish the double-A contest in the red with -25 yards combined and zero points (Holy Trinity TD came on special teams).
Established in last week's feature as being one of the best two-way players in the Catholic League, Palermo would surpass the 80-yard mark on the ground for the second straight week, running for 83 yards on 17 carries to average just under five yards per touch.  He added a successful 2pt conversion following teammate, Daniel Parker's, second TD run of the game to make the score 14-7.
Truly one of those guys who really does make the intangibles look spectacular, the 5'11 180-pound senior tacked another bullet point to his October 14th resume when he opened the second half by recovering an onside kick to prevent Holy Trinity from gaining momentum on an afternoon where they paid tribute to a new batch of Ring of Honor inductees.
Remiss if he did not acknowledge it, Carusillo wanted it to be known that the blocking of Palermo also proved invaluable in helping Parker to reach the end zone twice and in making it possible for Nigel Jarvis to shatter his previous season high of 32 yards by crossing over the century mark with 107 yards and his first TD of the season.
Admittedly, no matter what happens next week, Palermo will not be a POTW selection.  However, even if we cannot enable permit a three-peat, we fully expect another major effort out of him when SJB attempts to stretch the streak to three in a row versus Moore Catholic…With both programs entering the game with identical 2-4 records this season, the game will have significant seeding implications.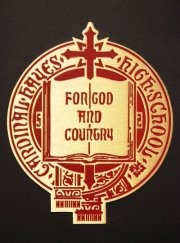 Sofian Massoud (So.); QB – Cardinal Hayes Cardinals
At the onset of the season, we made the claim that no one could possibly replace the impact that Christian Anderson had on the Hayes offense in leading the Cardinals to the crown in 2016….Six weeks into his sophomore campaign and the 6-food signal caller, Massoud, has not just made us eat our words, he shoved them down our thoughts and left no doubt that the quarterback position is and will remain in the best possible hands for the next 2.5 seasons in the Bronx.
Fresh off of their first blemish of the 2017 season in a week #5 loss to St. Anthony's where statistically Massoud played his poorest game (17-for-38, 215 yards, 2 INTs), the 10th grader showed more than just talent last week; he demonstrated courage, perseverance, and a knack for the big moment in propelling Hayes to a mind-blowing 47-21 victory to knock #1 in NYS Stepinac from the ranks of the unbeaten.
Coming out of the gate with something to prove, it did not take the super sophomore any time at all to assert his refuse to lose mentality.  On just the second snap of the game, he found a hole and trekked 26 yards into Crusader territory to set up an eventual Lucas Nunez TD run to give the Cardinals the immediate 7-0 advantage.  That run would be a precursor/shadowing of the kind of afternoon it would be for both Massoud individually and Hayes as a collective unit.   No matter what Stepinac attempted on defensive, it seemed destined that nothing would stand in the way of the "Bronx Bombers" from lighting up the scoreboard drive after drive.
Still leading by the 7-0 score, Massoud would post his biggest gainer as a passer on the next drive when he hit Nunez in stride and let the senior "athletic freak" do the rest, as the returning All-Stater complemented the surefire future member of the club by running 95 yards to put the Cardinals on the doorstep.  Three plays later, Massoud doubled the lead when he denied Stepinac a much needed goal line stand by sneaking the ball the last few inches across the line to make the score 14-0.
Just as they did in last year's AAA title game, the O'Donnell led Crusaders would not go down without a fight, as Stepinac scored two of the next three touchdowns (the second coming following an interception of Massoud) to cut the deficit to 21-14….However, as the stakes got higher, Massoud seemed to only grow stronger and better, as again he came through in the clutch, hitting Nunez on an 11-yard TD pass on 4th down to again create that two TD cushion….This touchdown pass, the second of four hurled by Massoud, served as something of a knockout blow as it ignited a 26-point unanswered surge that put Hayes in front 47-14….During this rally, Massoud also found Elijah Jones from 70 (the second time they hooked up on a huge gainer) and Nunez from 55.
Overall, Massoud concluded the day with his highest completion percentage of the season, connecting on 14 of his 23 attempts for 377 yards and the previously cited four scores….Currently, he is the NYS leader in average passing yard per game with a remarkable 325.6/outing.   His 1,628 total yards and 16 TD passes place him 6th and 5th respectively in the state rankings per Max Preps.  Considering he has played at least one fewer game than the names above him, you can expect that he will continue to climb as soon as he has the chance to make up those 48 minute of action.
With Hayes, Stepinac, and St. Anthony's only entering the seventh week of the regular season with one loss apiece, the top spot in the AAA playoffs remains very much up for grabs.  Hence, as they get prepared to host 4th place Monsignor Farrell this weekend, Coach O'Neill and staff know they will need to receive another magnificent showing from their now verified bona fide stud under center.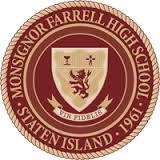 John Kelly (Sr.); LB – Monsignor Farrell Lions
A mainstay and Admiral of the Lion defense for the past 2.5 years, no yearly POTW list would be complete unless it included the future United State Naval Academy Midshipman at least once….
Consistent as the day is long, Kelly makes plays so naturally and effortlessly that at times, it can be difficult to appreciate just how special a talent he truly is…He is the type of player that you blink and before you know it, he already has double digit stops and has had a hand in a turnover.
Before heading to Annapolis, the 6'3, 215-pound linebacker has his eyes entirely focused on delivering the AAA crown to Amboy Road for the first time since the Lions went back-to-back in 1999 and 2000….With this goal in mind, Farrell knew that it needed a big win over one of the preseason favorites so as to carry that all-important confidence with them into the postseason…They would pick up that key "w" last weekend, outlasting Iona Prep 29-28 on the road.
Opposed by a Gael offense that three times this season (including in their previous game against Chaminade) has reached and/or surpassed the 40-point plateau, the Lion defense knew that holding their hosts from New Rochelle to a low number would be difficult.   But, with Kelly as the trend setter, the belief was there that they could do enough to limit the 2016 AA champs to a lower enough score that would put the offense in a spot where they could win the game….MISSION ACCOMPLISHED!!!
Leading his team in tackles, as he seems to do in every game, Kelly would just miss hitting double digits for third time in 2017, finishing with nine stops…No stranger to blowing up plays by flying into opposing backfields, in addition to his collection of stops, the Farrell captain continued to add on to his already team leading totals in tackles for loss and sacks, adding one apiece to each category…For the season, he is averaging 8.8 tackles (53 total), 1.2 TFL (7), just under one sack (4) per game.   Two of the five QB hurries he has been credited for came in a week #6 effort that witnessed IP quarterback, Derek Robertson, throw for his lowest yardage total of the season (210).  It goes without saying that having Kelly and other Lions constantly in his face was an enormous factor in Robertson being limited to only 1 TD pass a week removed from a 5 TD, 400+ yard performance in the air.
As noted in the previous feature on Massoud, this weekend's clash of perennial top programs will be a battle of wills as Farrell will attempt to once again keep the highly flammable Hayes offense under control.  For this to happen, Kelly will need to make a habit of harassing his fellow week #6 POTW brethren [Massoud].

Conrad Perry (Jr.); RB/LB – Mount St. Michael Academy Mountaineers
The most outstanding player in what was by far the best game of the 2017 Catholic season, when the Perry nomination was submitted, it was an instant no-brainer to include him on this list.
A back-and-forth affair that took six overtimes to decide, finally the Mountaineers would prevail 38-32 over St. Francis to jump them in the standings into the #4 position in AA.
The junior tailback, Perry, who entered the sixth week of the season riding a three-game 100+ yard running streak that yielded a pair of wins over Moore Catholic and Holy Trinity in weeks 3 and 5, would render those amazing showings quasi forgettable by rewriting his personal record book last Sunday….Having only carried the ball 20 times once prior this season, the 5'9, 185-pound resident of the Bronx embraced the role of the proverbial workhorse, taking the handoff 30 times and running for 253 yards and a pair of touchdowns in spearheading the Mountaineers best win thus far this season…No other MSMA student-athlete carried the ball more than 10 times or gained more than 45 yards.  Only quarterback, Marquis Jimenez, matched his multiple TDs.
Perry's first touchdown would come in the 4th quarter when he broke for 75-yards to put the Mount in front…His second score though would be even more valuable as it served as a game-saver, taking a 32-26 deficit in the fifth OT and pulling his school even to extend the game to one final extra frame.
As if he did not already have sufficient reason to be exhausted, Perry would step up in another way when his team needed him.  Called upon late in regulation and all throughout the endless overtime periods to play both ways, he was an asset as a member of the linebacking corps, making two solo tackles and assisting on two others.
Perry heads into the homestretch of the regular season leading MSMA in all rushing categories.  His seasonal stat sheet reads as such: 109 carries for 819 yards (7.5/touch) and eight total touchdowns.
With Mount St. Michael currently sitting in 4th place and the Terriers just below them in 5th, what transpired last weekend might just be round #1 of what will no doubt be another great slugfest in the opening round of the AA playoffs…Should a rematch occur in the postseason, you know full well that Coach Mario Valentini is going to dance with the man who brought him there and dare SFP to step his junior stallion.
Anthony Pecorella (Jr.); PK/P – Chaminade Flyers
Every season we try to get a specialist into the mix and while it may have taken us six weeks to do so, we are proud to continue that tradition through the person of the Flyers' junior kicker/punter, Pecorella.
The individual who has the distinction of both opening and closing the scoring for Chaminade, Pecorella would convert on 2 of his 3 field goal attempts, commencing the scoring with a 36-yard make in the 1st quarter to give the Flyers the early 3-0 lead…But alas, it would be his final kick of Sunday afternoon that acted as the catalyst in the Mineola based school's 41-38 victory at home over St. Peter's….With his team leading 38-31 at the time, the 6'3 190-pounder with the titanium leg made a prophet of Head Coach, Kevin Dolan, when he nailed a career-long 52-yarder with just over 5:00 remaining in the 4th quarter to give Chaminade a 10-point cushion….During the pregame, the second-year headman [Dolan] praised the abilities of his kicker, saying that he trusted his 11th grade weapon from anywhere inside the 35.
While his kick, which ultimately ended up being the game-winner following an Eagle score to cut the final margin of victory to just those three points, will likely be the moment that gets remembered, to us, it played second-fiddle to something he did earlier in the quarter…..A quarterback by trade, Pecorella, would make the most of one of the rare occasions he has had the opportunity to showcase his other appendage, converting a fake punt on 4th and short on his own side of the field by throwing a perfect strike to fellow junior, Tyler McCormick (career high nine catches for 146 yards) for 28 yards to put the ball inside the Peter's 30.  This conversation to keep the drive alive got the crowd back into the game and swung momentum back in favor of the Flyers.   Aidan Ryder would take it to the house a few plays later to break the 31-31 tie.
Not the "sexiest" of topics, but with field position always being a factor in CHSFL football, it is worth noting that Pecorella would have a 42-yard punt and averaged over 60 yards in posting five touchbacks in eight kickoff attempts.
Score one for the unsung heroes of the football world!!!