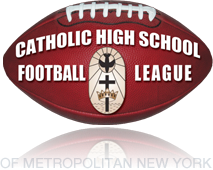 On Saturday Archbishop Stepinac will travel up to Buffalo to play Canisius for the 4th edition of the New York State Catholic High School Athletic Association Championship.  Stepinac defeated St. Anthony's 47-22 in the NYCHSFL Championship Game while Canisius defeated St. Joseph's Collegiate Institute 22-14 in the MMA Championship Game.
Kickoff is 12:00 Noon at Canisius High School and the game will be streamed live on News12Varsity.com and the News12 Varsity App.

These two squads battled it out in the inaugural New York State Catholic High School Championship Game back in 2014.  Canisius won the game 23-10 that

many deemed to be an 'instant classic' of two squads loaded with future college football talent.  Since then Stepinac captured the title in 2015 against St. Francis of Athol Springs NY before Canisius claimed the title back last year against Cardinal Hayes.  This year's edition of our State Championship should not disappoint.