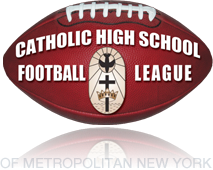 Before we turn the page to a full slate of exciting Week 2 games lets first look at the player's who had impressive performances last weekend to kick the season off.  Here are the Week 1 NYCHSFL Players of the Week.
By Matt Diano:
"A"
Seth Surrett (Sr.); RB/DB/KR – Kennedy Catholic Gaels
If there is one thing that we love about the opening weekend of every season, it is that it always brings with it the opportunity to see which of our new core of seniors have turned that proverbial corner and committed themselves to becoming team leaders in their final appearances wearing the school colors.  And for Gael senior, Seth Surrett, his swan song could not have gotten off to a better start, as he seemed to do a little bit of everything in helping Kennedy Catholic to a decisive 35-14 victory over St. Dominick's under the Friday night lights.
A young man that we predicted was destined to have a big season for the Somers, NY based school, his week #1 performance exceeded even our loftiest of expectations, scoring four of the team's five touchdowns and accounting for an astounding 256 yards of total production.
Accumulating 150 yards and scoring one touchdown on 17 carries all of last season, it took the 5'10, 180-pounder from Newburgh less than 48 minutes to surpass those marks, as he was on a man on a mission against the Bawhawks, averaging 16.8 yards per carry on 11 hand-offs to finish the season opener with 185 yards and three ground TDs.
Demonstrating the versatility of his talents, Surrett also had moments of brilliance as both a receiver and a kick-returner…Going all of last year without a TD catch, the Gael speedster's lone catch last weekend resulted in a 21-yard score…In addition, the 50 yards he earned as a punt returner was key to giving his school excellent field position on two of their drives.
The merit of his offensive and/or special teams credentials alone would have garnered him POTW honors.  But alas, as a final, he would excel in the defensive backfield, making three tackles (1 for a loss) and recording a sack from the free safety position.
"AA"
Nicholas Delcore (Sr.); WR/DB – St. John the Baptist Diocesan Cougars
For some athletes, making the transition from one position to another can prove to be an impossible task.  But for the Cougar senior [Delcore], if you did not know any better last Sunday afternoon, you would think he'd been playing wide receiver all of his life.
The school's starting quarterback in 2017, Delcore displayed such athleticism in the running aspect (491 yards, 4 TDs) of the position that when it came time to decide how he could best be utilized on the field, it became clear to Head Coach, Ralph Carusillo, that the way to truly unleash his play-making ability would be to put him in situations where he could go out into open space and just burn everyone with his natural quickness…Through one week of the season, Carusillo looks like a genius!!!
Involved in all five of the SJB pass completions in their 30-15 win over St. Francis Prep, Delcore caught four balls for 140 yards, including a 95-yarder early in the third quarter that increased his team's lead to 23-0.
On the only other successful pass attempt of the day for St. John the Baptist, Delcore would revert back to his field general roots by hitting sophomore, Christian Maisel, on a 40-yard strike.
As could be expected, just because he was lining up out wide, did not mean that the Smithtown resident would not easily find his way into the running game as well.  As a ball carrier, he posted a team-best average of 9.2 yards per hand-off, ending the day with 55 yards, highlighted by a 28-yard 4th quarter trek for his second TD of the day (he scored both 2nd half TDs for SJB) to ice the "w" for the visiting Cougars.
Representing a school that believes that it is the duty of their personnel to make impacts on both sides of the gridiron, Delcore's day was far from complete…Instead, he would take a few swigs of Gatorade and immediately get back to work as a key member of the secondary.
Credited with eight stops (third most on the team), a fumble recovery (returned to the Terrier 5-yard-line) and two successful pass defenses, Delcore and his fellow defensive backs held their hosts to a 38.5 completion percentage and surrendered less than 100 yards in the air.
Cameron Holmes (Jr.); WR/LB – Moore Catholic Mavericks
In an early season clash for Staten Island bragging rights, it would be the Mavericks making an epic statement when they cruised to a 33-0 triumph over St. Peter's last Saturday afternoon…Pitching the school's first shutout since the reinstatement of the varsity program in 2016, Moore Catholic took a big step towards putting the rest of the "AA" field on notice that they are for real and will be in the conversation come November.
Starring in this hunt for goose-eggs would be the 6'1, 185-pound Garden Stater, Holmes, who checked off just about every possible box from his outside linebacker role…Darn-near equaling his #10 jersey with the amount of tackles he made, his nine stops (3 for negative yardage) would be the second highest total posted by an MC player [Artie Padilla Jr. finished with 11) and put him just seven shy of matching his defensive output from all of last season…A full-range tormentor of opposing offenses, when Holmes was not busy stuffing the run, he was inflicting all kinds of damage to the Eagles' pass attack, logging the team's only sack and even turning "D" into "O" when he turned his first career interception into a 40-yard pick-6.
Adding to this memorable day of 1sts for the junior would be a 25-yard TD grab at the end of the 1st half.  And, as you may have guessed, this was the first pass catch of his career to boot!
With Holmes scoring at a rate of 100 percent on touches to touchdowns, something tells me that going forward, the Mavs are going to make a concerted effort to get the pigskin into this young man's every chance possible.
Conrad Perry (Sr.); RB/LB – Mount St. Michael
The 5'10 190 Conrad who is a returning team leading rusher, all-League Player for the Mount, and who has already had Player of the Week honors bestowed upon him last year wasted no time to make his mark on the 2018 campaign.
The Mountaineers emerged victorious in Week 1 with a thrilling 38-34 win over fellow 'AA West; foe St. Joseph's by the Sea. The significance of the score is that Conrad remarkably matched the Vikings 34 points all by himself last Saturday afternoon. Carrying the ball 27 times for 265 Yards may have been enough alone to get him POTW Honors.  However, it is not Mr. Perry's style to let up once the ball gets into the Red Zone, he plowed his way into the promised land not once, not twice, not….BUT 5 TIMES!!!  Most offensive weapons would need to get to the sideline gather their breath and get some water after all those scores.  Unfortunately for the Vikings this is not your ordinary player, in this tight contest where the Mount was clinging to the lead Conrad also punched in a pair of 2 Point conversions to seal the win.
Accounting for 178 carries 1,1,188 Yards (6.7 YPC & 118 YPG) and 8 TD's in his Junior Season this Student Athlete from the Bronx, based on his week 1 performance is ready to take his game to the next level.  No longer is best on the team and all-league honors the goal, Conrad just put the rest of the League, all of New York City (and NYS for that matter) on watch.  When you line up against the mountaineers in 2018 you better bring a lunch because it's going to be a full day of work.
Matthew Mongelli (Sr.); WR – Kellenberg Memorial Firebirds
The repeat bid is on!!!!  A year removed from posting a perfect 11-0 record and hoisting the "AA" hardware, the Firebirds extended their winning streak to 12 in a row last Saturday afternoon, winning an All-LI affair, 34-14 over hosts, Holy Trinity.
Playing on a team that is so stacked with superstars on the offensive end, it can often be difficult to be the one to command the headlines.  However, for the 6'3, 176-pound resident of Flower Hill, that is precisely what happened during week #1.
Posting what was undeniably the best game of his varsity career, the Firebird senior wide-out emerged with a career-high four catches, exceeded the 100-yard receiving mark for just the second time (105), and notched his second multiple-score (2) showing.
A commodity that was already well-known to the folks in Uniondale, Mongelli was the team-leader in every major receiving category as a junior (17 catches for 426 yards, and four TDs)…So, the fact that he came out of the gate on fire was not the least bit surprising to the KMHS coaching staff.
Two of Mongelli's initial catches would set up eventual Kellenberg scores as a WR screen that he brought to the 10-yard line would be punched in a few plays later by QB, Matt Sluka to get the Blue & Gold on the scoreboard in the 1st quarter…One quarter later, he would beat his man down the sideline and go up to grab a 40-yarder to put the Berg back in the red zone.  Frank Roder later completed the drive with an 11-yard TD run.
Having been the aforementioned facilitator on a few of his team's earlier drives, it would be Mongelli's turn to get his name in the box score, which he did, when he broke completely free (had a 10-12 yard advantage on his defender) over the middle for a 44yrd TD catch in the 2nd quarter to make the score 28-7….His second and final touchdown came in the 3rd on a possession that he pretty much owned.   Making a long catch to get the team into scoring position, he would then put the finishing touches on the drive by being on the receiving end of a perfectly thrown 12-yard back-shoulder route
This POTW distinction is the first of Mongelli's career, but the second such honor for his family.  In 2016, his brother, Marco, was named to the list in a heroic effort during a quarterfinal loss.  In both cases, Holy Trinity was the common foe.
"AAA"
Greg Campisi (Sr.); QB – St. Anthony's Friars
Honored for a third consecutive season, Campisi debuted on the POTW list in week #5 of his sophomore year and then returned last year during week #3…And while both of those performances were remarkable in their own right, we are not sure we have seen the Harvard bound lacrosse star look as controlled and smooth under center as he did last Friday in the Friar's 34-17 home victory over out-of-state rivals, Delbarton (NJ).
Improving his career record to a mind-blowing 13-1 in regular season games (15-2 overall), the 6'1, 185-pounder has never lost a start on his home soil and if the way he performed during the first week of the season is any indication of what the rest of the home schedule will deliver, then we pity any opponent that has the misfortune of travelling to Cy Donnelly Field in 2018.
Completing 12 of his 19 attempts (63.2%), Campisi established a new career high in passing yards, ending his 48-minute saga with 346 yards and three touchdown strikes.
Cutting through the defense like a knife in hot butter, what makes the future Crimson student-athlete so special is his high football IQ.  Watching him play, you notice that one of his greatest traits is that he very rarely forces a ball into a bad spot.  Instead, he allows the game to slow down by exploiting the weaknesses in the opposing defense…Equally essential when it comes to running an offense is that he has the wherewithal to recognize that he is surrounded by a plethora of amazing athletes that just need him to get them the ball.  It would be this poise and willingness to keep it simple that ultimately proved to be the winning formula in his banner night.
With the Friars already leading 6-0 in the first quarter, the National Honor Society inducted member would toss the first of his three TD hurls, on 2nd-and-14, when he drew the defense to him on a mini scramble and then hit running back, Kyle Angus, over the middle for a 75-yard strike.  Following the touchdown, Campisi called his own number on the 2-pt conversation, easily punching it in to double the cushion.
Responding with an emphatic count shot anytime the visiting Green Wave were on the verge of building momentum, Campisi would need just three plays on the ensuing drive following a Delbarton score to restore the two-TD lead…Gaining 14 yards on a pair of QB draws to start the possession, it would be one senior hooking up with another about three minutes into the second quarter as Campisi darted the ball in stride to Daniel Parker, who took it to the house for a 66-yard touchdown to make the score 20-7.
The scoreboard now sitting at 20-10, Campisi would again show his intelligence and maturity when on back-to-back snaps, he connected with junior, Greg Randall, to set up the third TD of the game for the Friars on their opening drive of the 2nd half.  Facing 3rd-and-3, he found Randall on a short pass to extend the drive.  On the next play, he side-stepped the pass rush and put his pinpoint accuracy on display, lofting it over the defender and enabling his 11th grade teammate to go up and make a one-handed snatch to put the ball on the 3-yard line.  Two plays later, Angus ran it in to make the score 27-10.
Campisi's third and final TD pass of the night would come on the first play of the 4th quarter when, similar to the throw to Angus in the 1st, he dumped a pass over the middle to Makhai Murphy who put the rockets into overdrive to go untouched en route to the 82-yard backbreaker that made the score 34-17.
Kevin Gray (Sr.); LB – Archbishop Stepinac Crusaders
In keeping with the theme another returning honoree, the 2017 Honorable Mention All-State selection was last featured in week #2 last season, but is so consistently dominant that if we permitted it, he likely would be named so many times that the unofficial title would become, "The Gray Area."
Recording the 7th most tackles in New York State last season with 122, the three-year starter for the Crusader linebacking corps wasted absolutely no time in picking up right where he left up…Falling one stop short of matching the personal-best that he established in his previous POTW appearance, Gray's 18 tackles, 14 of which were of the solo variety would stifle the Central Dauphin East (PA) running game to the point where they looked like they were standing still at times.
Entering his senior season with four career sacks, the 6'3, 225-pounder who calls Hawthorne his home, would also illustrate his improved passing rushing skills, as he had a hand in three of the team's eye-popping nine quarterback bags on the afternoon….On one occasion, his menacing presence and ferocious pursuit of the opposing signal caller would result in points being put on the board for the "D" as he would join teammate, Doug Simmons (the leader in sacks in NYS in 2017) in earning a 1st quarter safety to make the score 9-0.   The Crusaders would never look back, as they disposed of their visitors from the Keystone State by a tally of 32-14.
With the defending triple-A League and Catholic State champions set to clash with Iona Prep and their always electrifying aerial attack, Stepinac is going to need Gray to remain locked in for another weekend of pain!!!
Note: Gray will need just 12 tackles this Saturday to reach 200 for his career.
Derek Robertson (Sr.); QB – Iona Prep Gaels
Completing the sweep of previously recognized players in the triple-A division is the Gael's senior quarterback, Robertson, who last made the list during week #4 of his junior campaign…
Throwing his fifth and final TD pass of the game with approximately 1:10 remaining in regulation, the 6'2, 185-pounder from Yonkers showed that real heroes may not wear capes, but they do rise to the occasion when the moment of need is most great.   Playing the pitch-and-catch game with fellow senior, Sean Fleming, this three-yard dart would rescue Iona Prep from a 34-33 hole and enable them to go on to claim the 41-34 triumph over Rhode Island powerhouse, Bishop Hendricken…The winning score would be just one of three occasions that Robertson turned a deficit into an advantage in the second half.
Already the owner of the Westchester County record for passing yards in a single season, throwing for 2,774 in his first year as the Gael starter last season, the Honorable Mention designated field general seems destined to break his own milestone in the twilight portion of an immensely decorated two-year varsity career….Tossing for 320 yards (the third highest single-game total in his 11 varsity appearances), Robertson was on the money all afternoon, completing 30 of 42 attempts (71.4%) in getting the school from New Rochelle off to a 1-0 start for a second consecutive season.
A sniper with impeccable field vision, like any true leader, what puts Robertson in a different class than many of his peers is the ability to not just elevate his own game, but to simultaneously make everyone around him also play at a higher level…Hitting seven different targets (Camari Glascow's 8 catches being the team-high) throughout the game and finding four unique options for TDs, the IP 12th grader makes it impossible on opposing secondaries because there is no way of knowing where the pigskin is being flung next.
The game deadlocked at 7 apiece in the second quarter, Robertson would chuck the first of his 5 TDs when he faked a hand-off and connected with Matthew Panker on a 32-yarder to make the score 13-7…An 8-yard diving catch in the end zone by Alex Williams would give Robertson his second touchdown throw of the quarter and increase the Gael lead to 19-7
A Hendricken rally before halftime would set the stage for an epic back-and-forth final 24 minutes….Now trailing 21-19,  Robertson hooked up with Glascow on a crossing pattern inside the red zone to regain the lead, 27-21 at the end of three quarters.
Down 28-27 at the onset of the 4th, Robertson and the Gaels needed no more than 1:00 to respond as it would be Glascow again on the back end, catching a 50-yard missile to put IP back on top, 33-28.
Facing their last possession and on the wrong end of a 34-33 tally (the host Hawks had a long TD run with around 9:00 remaining), the Gaels took over with 3:30 still to contest and like the seasoned veteran that he is, Robertson, proved to be unflappable, marching the team down to set up the clincher!
Now 0-2 against a Robertson-led offense (lost 40-22 in 2017), perhaps the only thing that made Hendricken smile last weekend was the knowledge that the Iona Prep quarterback would not be back next season….Combining for nine touchdowns and an average of 281.5 yards tossing, #12 for the Gaels has BH screaming No Mas!!!