DeShawn Lawton (Fr.); WR/KR – Moore Catholic Mavericks
Just the third freshman to ever make the POTW list, anytime you find yourself in the company of former NYCHSFL great, Matt Valecce, or current Catholic football standard bearer, Justin Lacks (his teammate at Moore Catholic), you know that you are walking on a path to future greatness.
Identified in the 2018 Double-A preview as a special talent whose level of play far exceeds his youthful age, Lawton is only two games into his varsity career and already he has emerged as the Mavericks' top threat out wide, as supported by a stat sheet that lists him as having twice as many receptions (8), yards (170), and touchdowns (2) as his next closest peer on Merrill Avenue.
Making six of his eight career grabs in the 34-32 victory on September 15th over Holy Cross, the 5'8, 155-pounder from across the bridge (Newark, New Jersey) accumulated 156 yards and caught a TD pass for a second straight Saturday.  His yardage output was the highest posted by a Maverick receiver since the program was reinstated in 2016.  Lawton also used his hands to successfully convert on a 2pt try, thus providing the final margin of triumph.
The fab frosh added to his impressive afternoon by gaining 20 yards on his lone rushing attempt.  Carrying the ball only two times this season, on both occasions he has broken for 20 or more yards, as he gained 23 on his one touch in week #1.
Explosive in all areas of the game, 28 of his 204 All-purpose yards earned last weekend came on a big fourth quarter punt return that flipped the field and enabled the host Mavs to enjoy ideal positioning.
All of the aforementioned being given its proper credit, remarkably, the biggest contribution that the Garden Stater made during the second weekend of the regular season is one that will not appear in most box scores.   Following an interception by Holy Cross, Lawton would sprint 80 yards and make a game-saving tackle to preserve the "w".
By virtue of improving to 2-0 on the young season, Moore Catholic has already equaled their win total from a year ago.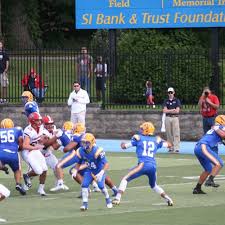 Sonny Badyna (Sr.); QB – St. Peter's Eagles
Speaking on the importance of one's ability to be adaptive at all times and make necessary adjustments, American author/toymaker/creative theorist, Roger Von Oech stated, "Flexibility is a requirement of survival."….Charles Darwin expressed identical sentiments, saying, "It's not the strongest of the species that survives, but rather the one that is most adaptive to change."
For the now 1-1 Eagles of St. Peter's, when they reflect back on the 2018 season, it may be that their saving graces can be found in the willingness and promptness of their senior signal caller [Badyna] to go back to the drawing board and be receptive to the introduction of a new offensive scheme.
A week removed from being shut out 33-0 by Moore Catholic during the first week of the regular season, the Staten Island school realized that an overhaul was necessary and put their trust in the experienced leader to quickly absorb the new game plan….Indoctrinated into the school's new philosophy on Tuesday, by Saturday of last week, the 6'2, 180-pounder from Brooklyn had already mastered it, as the Eagles soared up and down the field to the tune of a 49-14 win over rival, St. Joseph's by the Sea.
The classic drop-back passer during the first three years of his scholastic career, Badyna only attempted to run the ball 32 times last year and finished with negative production.  Therefore, to transform from gun-slinger to scrambler in a matter of days is nothing short of miraculous.
Entering the week #2 All-SI clash having never run for a touchdown, the Eagle captain might as well change his legal name to Newton [in reference to Panthers Starter/NFL record holder for career TD by a QB] as he would make the journey to the promised land on four separate occasions…He ended his afternoon having gained 90 yards on 21 carries.
While the new-look blue print did limit the number of times he was able to air out the pigskin, when those opportunities did occur, Badyna looked as polished as ever, completing all four of his passes for 142 yards and tacking on a fifth touchdown.
When the news of St. Peter's dropping down to the "AA" division was released, this was the imagine of dominance the experts envisioned.  And now that the real Eagles have spread a fresh set of wings, we dare anyone to try and clip them.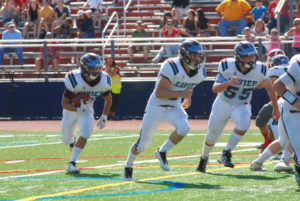 Daniel Vittiburga (Sr.); RB/QB/Punter – Xavier Knights
A program that has always made their name on keeping points off of the scoreboard, this 2018 edition of the Knights have been downright nasty on both sides of the gridiron so far this season…Averaging 35.5 points per game through the first two weeks of the season, as the expression goes, this is not your "daddy's Xavier team anymore."
At the heart of this offensive explosion has been the astronomical rise to stardom by the senior jack-of-all-trades, Vittiburga….Utilized in every aspect of the game, the Brooklynite does so many things within a 48-minute time frame that by the end you have a difficult time pinpointing what his biggest contribution was on that given day.
More of a complementary piece during his junior season, #36 wrapped up 2017 having carried the ball just 28 times for a modest 78 yards and two scores.  As a passer in the single-wing formation, he failed to connect on any of his nine attempts.  In fact, if not for splitting time as the punter and excelling as a kick returner, it could be argued that last year was a bit forgettable for the 5'8, 165-pounder.
Fastforward to 2018 and if there is one word that will never be written in describing Vittiburga again, it is "forgettable".  Rather, terms such as "irreplaceable", "invaluable",
"indispensable" and so forth have become the new vernacular when describing this amazing student-athlete.
Fresh off of a team-leading 17-carry, 77-yard, two touchdown performance in the season opening win over Holy Cross on September 8th, Vittaburga would again treat those in attendance to a show.  Atop the statistics sheet for the second outing in a row, the Knight senior continued to rewrite his personal record book in a 42-7 victory over St. John the Baptist this past Sunday…Notching the first 100+-yard game of his career (160), Vittiburga carried the ball 24 times (6.7/run average) and scored twice more (on runs of 6 and 9 yards) on the ground to increase his season total to four touchdowns.
Per Xavier Head Coach, Chris Stevens, who achieved a milestone of his own (100th career victory) during week #2, what made the 12th grader's day even more spectacular is that even on the plays that did not yield touchdowns, Vittiburga still had a significant impact on every drive.
Trailing 7-0 at the time, Vittaburga's first career pass completion would be a 60-yarder to fellow senior, Demetrios Demetriades, to set up the Knight's first TD of the game to cut the Cougar lead to 7-6.
Later in the contest and with the New York City based school now holding a 12-7 edge, it would be the punting precision of Vittiburga that paved the way for a backbreaking score late in the 3rd quarter…Kicking a 40-yard boomer, he buried SJB inside their own 20.  A fumble on an ensuing play gave the Maroon & Blue excellent field position, which they capitalized on by scoring their third TD of the game to make the score 18-7…Using Steven's words, "this TD opened the flood gates" as Xavier went on to score 18 4th quarter points to pull away.
After getting swept last season, including a 28-7 semifinal loss, Xavier will have revenge on their mind during week #3 as they face-off with defending champions Kellenberg, in a what is quickly materializing as a possible preview of the double-A title game.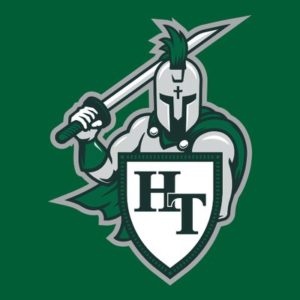 John Stroughn (Sr.); Two-Way Lineman –Holy Trinity Titans
Because the nature of accolades such as POTW has always favored players occupying the skill positions, on the few chances per year that we get to shine the spotlight on a lineman, we rejoice.
The first of his breed to be honored in 2018, the 245-pound resident of Uniondale is nothing if not an unsung hero for the Titans week after week.
The leader of the road graders as the pulling guard, with Stroughn plowing would-be tackler and pass rushers, the Tony Mascia mentored program is averaging just under 250 yards of total offense and 20 points per game after two weeks (1-1)…In both cases, these numbers signify a quantum leap over a 2017 campaign that saw the Hicksville based school muster averages of 151.3 yards and nine points.  The increased effectiveness of the running game especially has stood out, as 78 yards a year ago has been replaced by 199.5 yards of ground attack.
In this past Saturday's 26-22 win over Xaverian, all of the Titans points would come by way of the run, as three runners combined to score four touchdowns.  Through two games, Holy Trinity has already recorded six TDs on the ground.
Defensively, Stroughn has picked up right where he left off from his junior season.   The team's tackle leader with 63 stops in 2017, he appears well on his way to repeating this feat.  His 15 tackles and four sacks rank 1st in both categories for the defense.
In the aforementioned win over the visiting Clippers last weekend, Stroughn was particularly active, making six solo tackles (2 TFL), adding a sack to his resume, and being both the cause and the capturer of a Xaverian fumble…Collectively, it was a signature afternoon for the HT D-line, as they held their opponents to just 44 yards rushing (1.8 carry average).
Having already played their most likely toughest test, defending champion Kellenberg Memorial and their potent offense in week #1 (34-14 loss), as impressive as Stroughn and the Titans stats have been thus far; you should expect them to get even better as the season progresses.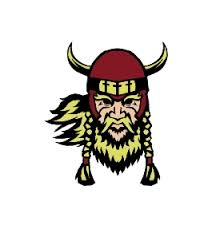 Jimaar Edwards (Sr.); DT – Iona Prep Gaels
If the first two weeks of the 2018 season are any indication of what the remainder of the year is going to be like in New Rochelle, then it might be necessary to stop calling Iona Prep the Gaels and instead begin referring to them as the Cardiac Clan!!!
For the second time in a matter of weeks, it would be a game-changing play in the final minutes of the 4th quarter that ultimately enabled Coach Joe Spagnolo and his cohort to emerge victorious.
One week removed from senior quarterback Derek Robertson's dramatic 3-yard touchdown pass in a 41-34 non-league win over Bishop Henricken (RI), it would be a member of the defensive personnel's turn to "snatch victory from the hands of defeat."  And that individual would be none other than the 5'11, 250-pound nose guard from White Plains, [Jimaar] Edwards.
Trailing for the majority of the game (including being down 28-14 with 4:27 remaining in the final quarter) to defending Triple-A League and Catholic State Champion, Archbishop Stepinac, the Gaels would launch a most impractical comeback for the ages…A 60-yard touchdown pass from Robertson to Matt Panker cut the deficit in half, setting the stage for what could legitimately be the defensive sequence of the year…With the clock acting as a bigger enemy than the gentlemen lined up on the opposing sideline, Iona Prep knew that if it had any chance of knocking off the Crusaders for a second consecutive season, they would need to either force a quick punt or create a turnover…Cue Edwards!!!
Clinging to the one TD lead but buried in their own zone with 2:30 remaining in the game, everyone, including the commentators predicted that Stepinac would run the ball to kill clock.  Instead, they would attempt a screen pass on 3rd-and-19 and it would be Edwards throwing his hands up, picking off the throw and cruising 20 yards to the house to level the game at 28 apiece with 2:22 on the clock…The war between the top-2 teams in the Lower Hudson polls would go into overtime and it would be a Frankie McFadden two-point conversion that followed, followed by a stuff on Stepinac's 2pt attempt that proved to be the deciding factor in the 36-34 home triumph.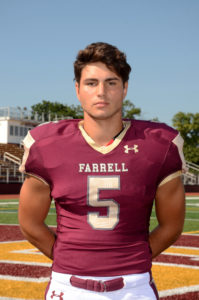 Lucas Turco (Sr.); RB/WR – Monsignor Farrell Lions
There is a saying in sports that there is a difference between being injured and being hurt.  In the case of the 6'0, 220-pounder from Staten Island [Turco], the pregame scouting report may have suggested that he was less than 100%.  However, by the time the final buzzer sounded, the only ones truly hurting were the host Royals of Christ the King, as Farrell improved to 2-0 behind a 15-14 comeback win in hostile territory.
Hampered for much of the preseason and forced to miss the Lions' season-opener on September 7th while recovering from multiple afflictions, like a gift from "Uncle Louie" on Christmas day, the Farrell coaching staff were forthcoming in admitting that they were not completely sure what, if anything at all, they would receive from their three-year varsity stud…But, in the face of adversity, Turco would show himself to be the consummate "by any means necessary" warrior, as he endured obvious discomforts in his declaration of selflessness and excellence.
Customarily utilized as the team's #1 target (28 catches for 289 yards and 4 touchdowns as a junior) in the aerial attack, Turco was unexpectedly thrust into the role of primary running option when the Lions' Honorable-Mention All-State selection, Vin Wagner, was unable to return to the game after sustaining an injury following his lone carry…Despite inheriting some mighty large cleats to fill, Turco delivered, averaging over 14 yards per carry on his five touches to lead all Maroon & Gold rushers with 71 yards.
Too exceptional to allow them to go to waste, Turco's hands also came into play at key moments of the game, as it would be him on the back end of a 3-yard shovel from Mike Regan early in the second quarter that got Farrell on the board and tied the contest at 7-7….This touchdown reception was one of three grabs made by Turco, as he added 20 yards as a pass catcher to raise his total yardage output to 91.
With 9:40 remaining in the 4th quarter and MF now trailing 14-7, Regan connected with Christian Tait on an 8-yard TD strike to draw the Staten Islanders within a point…Rather than settle for the PAT to tie the game, Head Coach, Anthony Garofalo, elected instead to gamble and go for the 2pt attempt…Aware that points had been at a premium all afternoon, when deciding whom he trusted most to come through in the clutch, it would be a no-brainer for the Garofalo, as he went back to the well and again converted on a shovel pass to Turco for what ultimately was the game-winning points.
Erring on the side of caution, the Farrell coaching staff did say that Turco will continue to be eased back into the line-up in their week #3 match-up against Chaminade.  But alas, if his debut last weekend proved anything, it is that 75 percent of Turco is still 110% capable of taking fate into his own hands (and legs for that matter).